Regular price
$89.99 USD
Sale price
$35.99 USD
Unit price
per
Sale
Sold out
🌎FREE SHIPPING WORLDWIDE🌎   
✔ 100% money back guarantee.
✔Processing time>>Ships within 72 hours of payment.

Be precise. Remote security. Introducing the new fully automatic gel ball launcher!
What is gel ball launcher?
The gel Ball launcher is a superior and safe choice for airsoft, Nerf, Super Soak, and compared to paintball, it has higher magazine capacity, fully automatic fire, and longer service time. In contrast to airsoft, which uses bb, gel ball launchers use water-filled gel bullets, which offer similar performance in range and accuracy compared to bb, but are safer and more child-friendly.
Please note that the shell ejection window on this product has been blocked for legal reasons. Glowing Tracer and Metal Magzines are not included in the package
Included:
1 x water gun.
2 or 1 x Magzine
1 x Gel Ball Combat Goggles

1 x Rechargeable Battery

1 x USB Charging Cable
Important: How to Soak Gel Bullets:

The most common problem for all new users of gel launchers is that the gel balls don't soak in the correct way, causing your launcher to not shoot properly.

Soak the dried gel balls in clear water for 3-4 hours, or until the gel balls are 7-7.5mm long, rinse thoroughly before use. Soak in pure water for better results. Gel launchers are only designed to use 7-7.5mm sized gel bullets, smaller sizes will result in sufficient bullet feed, larger sizes will result in bullet accumulation in the barrel, be sure to soak the gel bullets to 7-7.5mm before use. Store the soaked gel bullets in a closed container if you want to use them next time. For unsoaked gel balls, if they start to shrink after a while, they can be re-soaked to 7-7.5mm. If you have oversized get bullets stuck in your launcher, clean them up before using again.
FAQ
1. Is this a scam?
A: We can't imagine so many people would ask this question.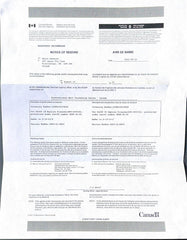 This is the notification document of customs confiscation of our toy guns in various countries, the probability of being confiscated by customs is usually 2%.

It may be that the customs staff thought the gun was good and took it home to play with one.

2. What if your gun is confiscated by customs?
A: Send us the picture of the seized document, we will refund the full amount of

3. How long does it take for my item to arrive?
A. It takes more than 2 weeks for general merchandise and more than 3 weeks for toy guns.

Toy guns are very special products. Especially toy guns that have the appearance of real guns. We use special logistics channels, that's why it takes longer than normal products.

They will be subject to strict inspection by customs.

We promise

1.Free shipping and taxes, no other hidden fees
2.Secure payment via Stripe® and/or PayPal®
3.14-day money back guarantee
4.Tracking number on every order
5.We use encrypted SSL certificates to ensure 100% security


Share
View full details